I had a little Michael's adventure yesterday and finally got a few things I've been wanting to get based on some Pinterest inspired projects. I'm not totally sure about them, but love how one turned out. I was visiting Lindsay from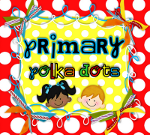 I saw she had a super CUTE numbers for her kids to check in. I wish I could remember, but I saw an idea for the students to put a number magnet up on the board when they turn in their homework each day. It's like killing 2 birds with one stone, both homework and attendance (since we generally have homework every day). I think the numbers are too small, but we'll see when I try it out.
Materials:
glass pebbles
magnet
scrapbook numbers
glue gun
As you can see the numbers are hard to see. I may replace them by using signs from Lindsay's site.
I found the piece of wood for 99 cents! I painted it with Ms. Martha Stewart's paint in blue.
Then I found these super cute wood letters and painted them in black chalkboard paint and added blue dots with a pointed stick.
Here's the final product. I added little white buttons on the side and white ribbon to hang. I haven't added the black clothespins yet, but will when I can get in my classroom next week.
My next project is duct tape clipboards and a few others! Exited to get in my room (well kinda) and get going. So MUCH to do. Good luck everyone!! Thanks for always inspiring me.